Learn What A Modern POS Can
Do For You
You don't need a restaurant POS system that's more complicated than your day-to-day operations. Brink POS sets your business and staff up for success with an all-in-one solution that makes morning rushes, late rushes, and everything in between refreshingly uncomplicated.
Explore how to boost your business with the right POS. Check out our new eBook.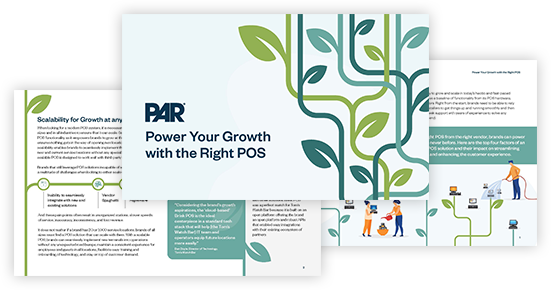 Brink's secure, configurable, cloud-based POS system
Operators can streamline and scale multi-unit locations while optimizing the guest experience.
Scale your business
add restaurant locations at a fast pace

Configure it your way
support multi-unit brands and menu management easily

Power your innovation
connect current and future systems through an open API
Trusted by Brands Across the Nation






"PAR's Brink POS was the first product we deployed due to the simplicity of the user interface and the flexibility of the design. We also liked the unit-level reporting suite for a single unit manager, the fact that it was cloud-based, and affordable."
- Tim Carter, CFO, Salsarita's, 85 locations

"We realized that Brink was really the hub of our business and anything new we brought into our franchise system needed to be a PAR product or a fully integrated PAR/Brink partner. It was a
no-brainer. "
- Helena Bitter, Director 0f Technology Development, Mr. Pickles