How the new Taco Bell Defy in Brooklyn Park, Minnesota is defying the odds and changing the way drive-thrus operate

Jaclyn Grace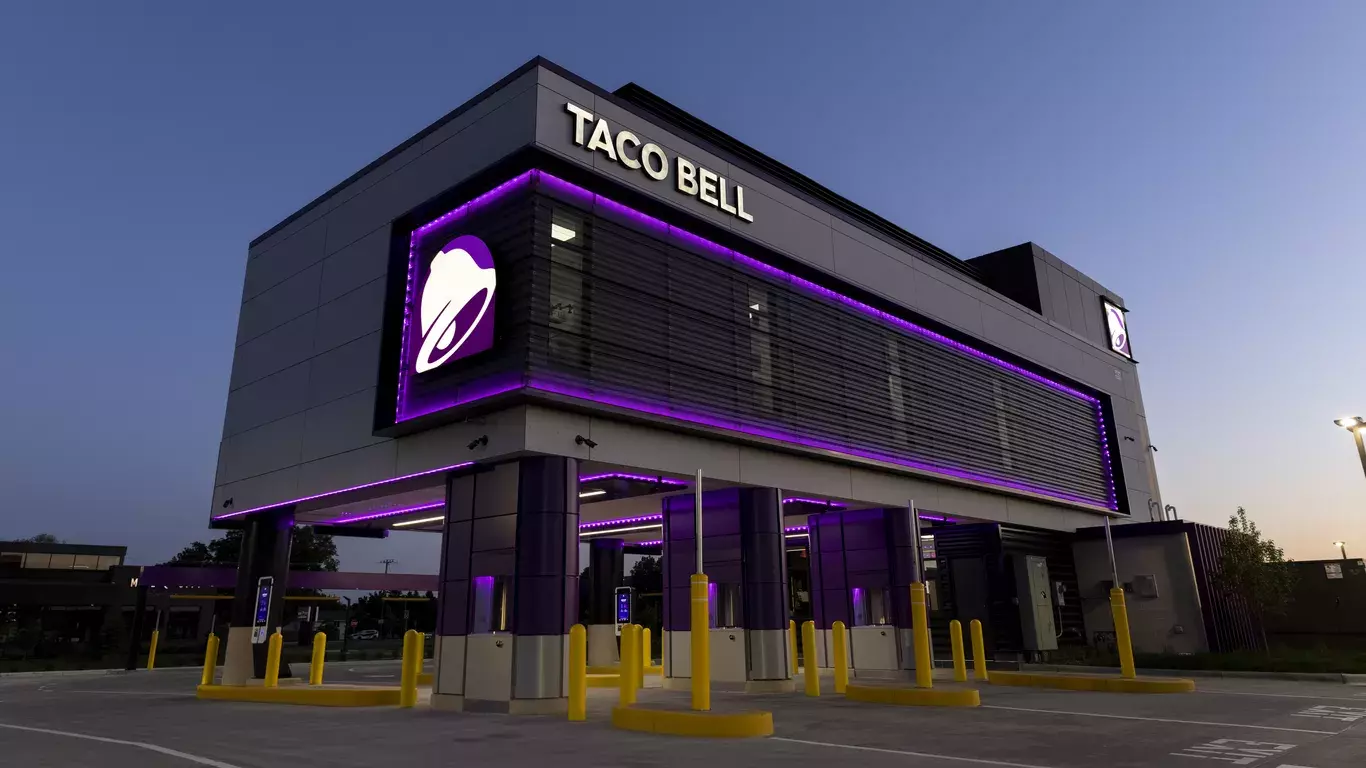 Drive-thru services account for a large portion of fast-food restaurant operations. With 42% of all restaurants operating drive-thrus, it has become an operational necessity. From line-busting to pulling cars, the food-service industry has been pulling out all the stops to improve their drive-thru times and accelerate the service experience.
One brand, however, is taking it one step further and truly redefining what it means to be a drive-thru. Say hello to the future, and it is the Taco Bell Defy in Brooklyn Park, Minnesota.

Taco Bell Defy is a one-of-a-kind concept brought into reality by offering the only completely contactless drive-thru experience in the United States with a goal of a two-minute or less service time. The aim of designing Taco Bell Defy was to outperform the average national drive-thru speed as well as limit the interactions between staff and consumers.
"For decades we've been committed to providing a fast, safe, and friendly drive-thru experience; now with our bold goal of creating a 2-minute or less drive-thru experience for customers of this concept, Taco Bell Defy is the future," said Taco Bell President Mike Grams. Per a recent QSR report on average drive-thru service speeds, Taco Bell already has a fast-paced drive-thru line averaging 268 seconds, or roughly 4.5 minutes, which is lightspeed compared to other drive-thru operations. It would be revolutionary, to say the least, if Taco Bell Defy could create a 2-minute or less, entirely contactless drive-thru experience.
Digital Ordering Means Less Time in the Drive-Thru Line
As the rate of drive-thru services grew from 2020 to 2022, so too did the rate of digital ordering. According to a recent NDP report, from February 2020 to February 2022, drive-thru services grew by 20% and digital ordering grew by 117%. To adapt to the increasing frequency of digital orders, Taco Bell Defy has prioritized digit ordering via the Taco Bell app and offering the consumer more ways to order. By offering the consumer mobile app ordering in the drive-thru line, Taco Bell Defy has been able to decrease its average speed of service and come ever so close to its 2-minutes or less goal. Taco Bell Defy customers have three ways to order at the drive-thru line: pre-orders, delivery drivers, and a traditional drive-thru.
Pre-Orders:

Order via the Taco Bell app and achieve skip-the-line service for ultimate ease and convenience.
Delivery Drivers:

Delivery drivers who order through a third-party delivery partner will be able to process orders and provide faster delivery times to the consumer.
Traditional Drive-Thru:

Normal drive-thru services are offered for those who prefer to drop in and order their favorite menu items. There is one lane dedicated to this service.
Prioritizing mobile app ordering not only decreases Taco Bell Defy's service speed but also promotes loyalty programs like that of PAR Technology's Punchh platform. Through mobile app ordering, Taco Bell can gain more customers, follow their customer's orders, and understand their customer's wants and needs. Providing mobile app ordering also allows Taco Bell to deliver customers incentives and personalized offers for their loyalty based on previous orders and spending. Mobile app ordering was not only inducted into the Taco Bell drive-thru system to enhance service speed but to also create a contactless drive-thru experience.
A Completely Contactless Drive-Thru Experience
One of the many unique features of Taco Bell Defy is it creates a contactless drive-thru experience for both staff and consumers. Instead of ordering through a speaker, Taco Bell Defy prioritizes ordering via their mobile app to help minimize the contact between staff and consumers. Of course, there are still walk-up and drive-thru lanes for consumers who do not use the Taco Bell mobile app, but there are more lanes for those who do. Your ordinary drive-thru provides the customer with one lane and one ordering window with face-to-face contact from drive-thru staff when receiving food items. This drive-thru model tends to create a backup in the drive-thru line causing longer wait times to receive food. Taco Bell Defy, on the other hand, has four drive-thru lanes; three of the lanes are for preordered food and one lane is for normal drive-thru ordering as well as a walk-up and bike lane.
To complement the four-lane model, Taco Bell Defy has one massive kitchen divided into four smaller kitchens on the second floor of the restaurant. Each of the four kitchens is focused on serving one of the four drive-thru lanes to keep the lines moving as fast as they can.
You might be asking yourself, "how does the customer receive their food if the staff is upstairs?" The answer is more straightforward than you think. Taco Bell Defy uses proprietary vertical lifts, or as I like to call them, food tubes, to deliver food to the customer. When you reach the front of the line, the upstairs Taco Bell Defy staff will send your food down these vertical lifts in under 10 seconds, like that of drive-thru banks.
How to Order at Taco Bell Defy
Ordering at the Taco Bell Defy drive-thru is rather simple. Since it prioritizes mobile app ordering, orders can be placed ahead of time to earn skip-the-line service and guests simply scan a QR code at the start of the drive-thru. Since there are no drive-thru windows on the ground floor, customers can use two-way audio and video technology services to communicate with team members on the second floor. Once you arrive at the front of the line, your food will drop down the proprietary vertical lift and away you go. Because Taco Bell Defy wants to create a contactless experience for the customer, there is no indoor or outdoor seating. The customer is expected to either eat in their car or eat at home, in true fast-food fashion.
Taco Bell Defy's new drive-thru model truly is ahead of the game and changing the way drive-thrus operate. Over the coming years, expect more drive-thrus to shift to this model to speed up the rate of service and provide customers with a superior contactless experience that is much-needed post-pandemic.